A look at Hytale's Journey
Hytale is set to release 2021, they have been in development for many years, but what comes across their Hytale journey? Have a look at the different types of Hytale zones, Hytale model creations, Hytale community servers and more what Hytale has to offer!
---
The first steps of Hytale
The upcoming Minecraft alike game, Hytale was announced in December 2018 - the developers, Hypixel Studios, have been working on this game for around 5-6 years. This game already surpassed the most popular game, Fortnite in trailer views - by hitting over 55 million views!
Will Hytale release for free? We are not sure yet, but as far as we know - Hytale have many different modes that'll come across the game, such as Adventure Mode, Hytale Servers (Community Servers), you can check the different upcoming Hytale Servers!
Hytale Adventure Mode
Hytale' world will be larger and more in detail than Minecraft (Minecraft 2.0?)! It contains of different zones with many unique features to discover and enjoy. Exploring dungeons will be further exciting and hopefully, Hytale can allow you to play with your friends in Adventure Mode as well as on Hytale Servers!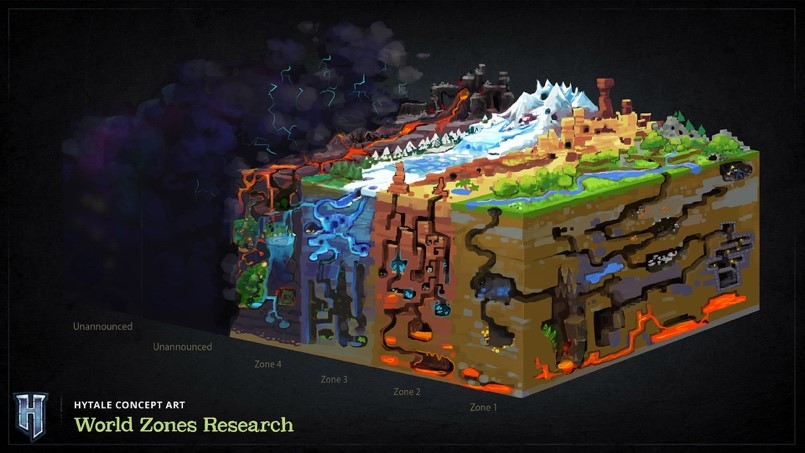 Hytale Community Servers
Hypixel server on Minecraft is one of the main reasons, Hytale is popular! Hypixel was a server in Minecraft that grew rapidly and has a huge amount of success throughout their different Mini Games! You can check out different types of Hytale Servers on our site! Hytale are giving server creators their best chance to prove their creative ideas to allow Hytale players to enjoy their time with their friends. They also have access to different tools, such as Hytale Model Creation.
Hytale Model Creation
"Back in 2011, I started working on software called CraftStudio" says Élisée Maurer, who leads development of Hytale Model Maker alongside Nicolas 'Bilou' Gauthier. "The idea was to try to democratize game making by providing really simple tools for players to make their own games - and also make it fun, make it like a game, by providing real-time collaboration." – Hytale
With this Hytale model creation, players can create their own live scripting, with access to powerful building tools to allow them to be creative and invent:
New Weapons
Custom Weathers
Modding for their servers
Recording Tools - Create Movies/Videos
This all together will allow players to connect and learn new ideas and skills which will bring the community together! Check the video below for further notice of Hytale's model creation.
And let's not forget, find more information by watching the Hytale trailer, which currently has 56+ million views!